Birthday Dinner at A Toute Heure!
August 19, 2016

|

Comments Off

on Birthday Dinner at A Toute Heure!
We recently had the chance to dine at one of our very favorite local restaurants, the perennially popular, A Toute Heure.
We moved to Cranford in 2007, not long after A Toute Heure first opened its doors.  In our carefree, child-free days (siiigh), we were often able to drop in for spontaneous dinners at ATH on random weeknights, and also for a Saturday night on the town.
That was then, this is now.  Eight years later, ATH is booming, and reservations for a Saturday night primetime 7-9pm slot often involve being awake at the stroke of midnight exactly 30 days before your desired date.  If you're more flexible, they keep tables open for 5:30pm and 9:30pm reservations at ATH. And they also have a fabulous sister restaurant across the street, 100 Steps, which is larger and has more seating. It also features more casual fare including a mouth-watering oyster menu. (Spoiler alert: I plan to write a post on OHS in the near future!)
Eight years later, we have two roosters kiddies who enjoy nothing more than waking up at 6am SHARP, so we have usually been asleep for hours at midnight on any given day, and therefore usually can't snag a prime Saturday time slot.  By pure chance, I happened to be online at midnight exactly 30 days before my birthday, and was beyond overjoyed to snag a prime time 7:00pm Saturday night reservation! Yay, and happy birthday to me!
For an extra special birthday treat, my saintly mother, aka "Grammie", agreed to take the kids at her house for the evening (YAY!), so we dropped them off.  I then got to spend an entire hour all by myself to get ready (ok, half hour and then 20 minutes staring at Pinterest). Once we were primped and prepped, off we went.
For us, dining at ATH is like visiting an old friend. The owners, Jim and Andrea, are always so accommodating and friendly.  Every night Jim makes the rounds to all the tables to say hello, visit, and make sure everyone's having a great time.  Jim, Andrea and their staff work tirelessly to ensure an amazing farm to table meal in an inviting, intimate atmosphere.
And what a meal we had!  First the rolls were brought to the table.  Tall and airy and filled with buttery salty deliciousness, I could have eaten just the rolls as a meal.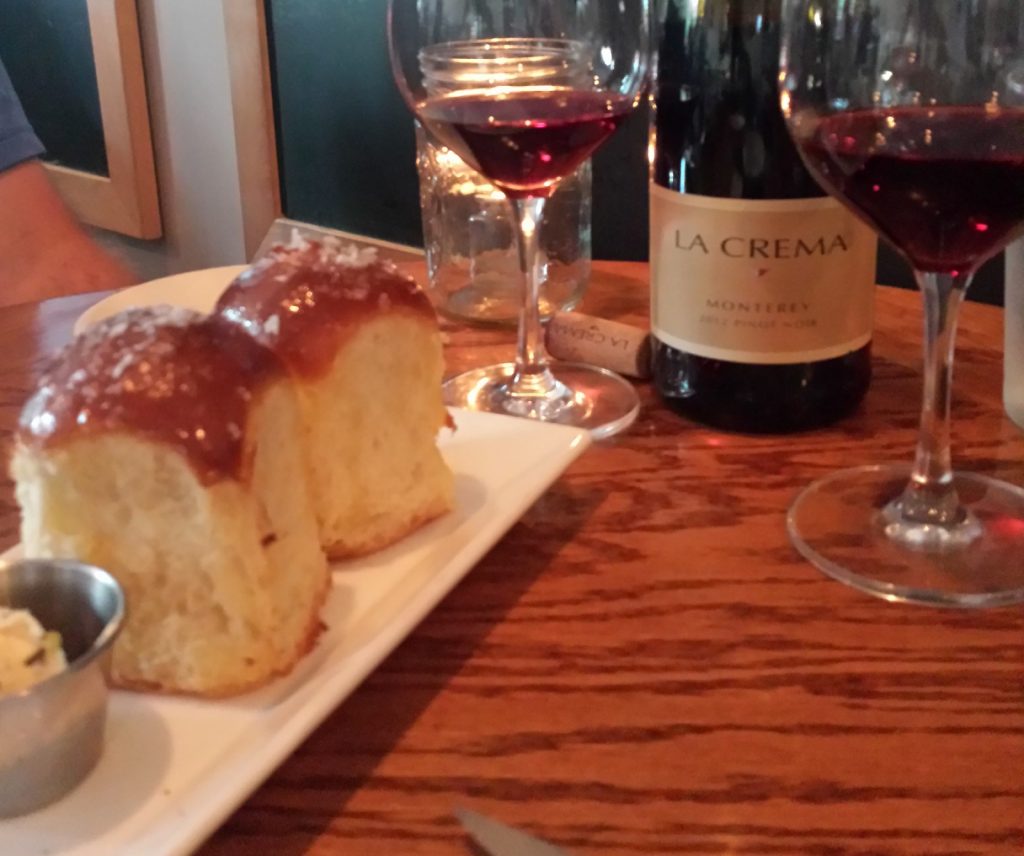 But we pressed on.  For "bites", we ordered eggplant crostini on toasted focaccia bread.  For "starters", we ordered the braised bacon.  And folks, when I say bacon, I mean:
Now that's impressive!
For my main entrée. I ordered the hand-cut tagliatelle tossed with ratatouille, arugula, and goat cheese.  Darren ordered the bone-in pork chop with ginger lime glaze, and both were beyond delicious!  And then, dessert.  I had the amazing butterscotch cake with chocolate sauce and English toffee ice cream, while Darren had the summer berry cobbler.  And because they knew it was my birthday, I got an ice cream scoop decorated with sprinkles and a candle though thankfully no song.
We couldn't decide whose was better, but both of us agreed it was a fabulous meal and another special occasion well-celebrated at A Toute Heure.
Have you visited A Toute Heure recently? What was your favorite dish?  Add a comment and let us know!