Welcome to Our Basement Renovation: The Reveal!
January 28, 2017

|

Comments Off

on Welcome to Our Basement Renovation: The Reveal!
This is third, and final, installment of my three part series.  We finished off part of our basement, to make a playroom that can eventually be transitioned into a second family room, or hang out area, for the kids as they grow.
Friends, I am deee-lighted to report this project is DONE! Hoorah!
It's been a while, so here's a brief recap:
Part One discussed our goals for the project, determining our needs, and comparing against our budget.
Our main goal for this project is simply to have a well- lighted, heated space that the kids can use to run amok during the long cold winter, and on rainy days.  We decided to keep the ceilings open as we plan to do some additional renovations in the future, and walling off the utilities and laundry area for safety.  Eventually we may decide to make it a more formal living space, but for now, heat, light, painting, flooring, and enclosing utilities are the basics.
Part Two discussed the steps we took in our project:
Cleaning and Clearing
Putting up walls, installing heat and lights
Installing flooring
Painting (walls and ceiling)
And, now….Part Three, the Reveal!
As a reminder, here was the space before: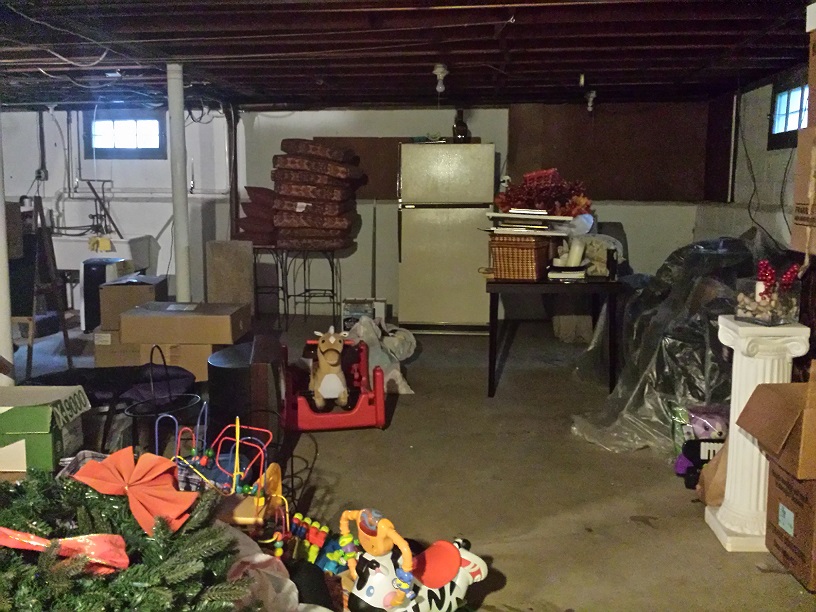 And NOW! From the same vantage point as "before" pic, above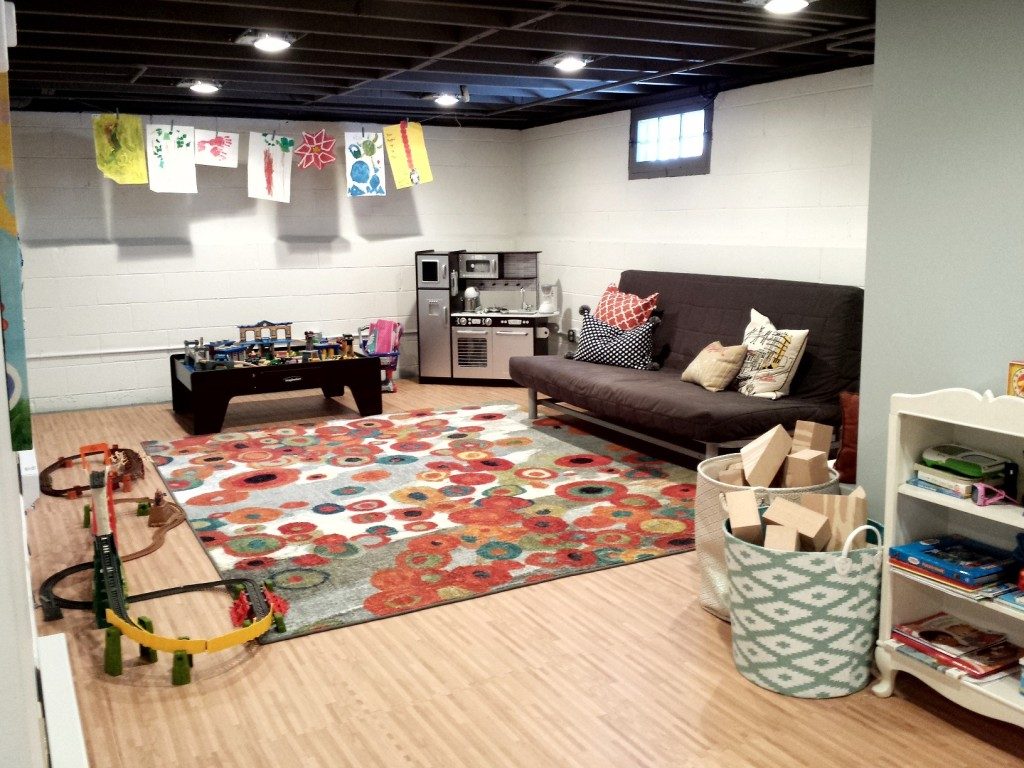 And looking in the opposite direction…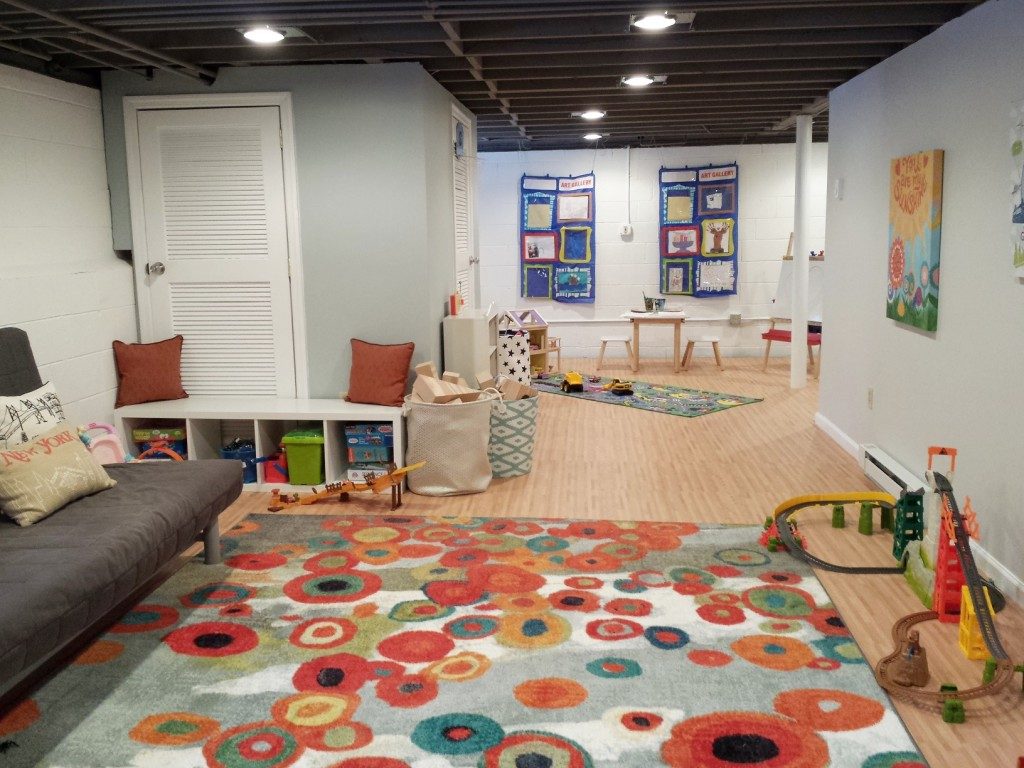 The print and rug were the two inspirations for the room, and some fun storage bins add a decorative and practical touch: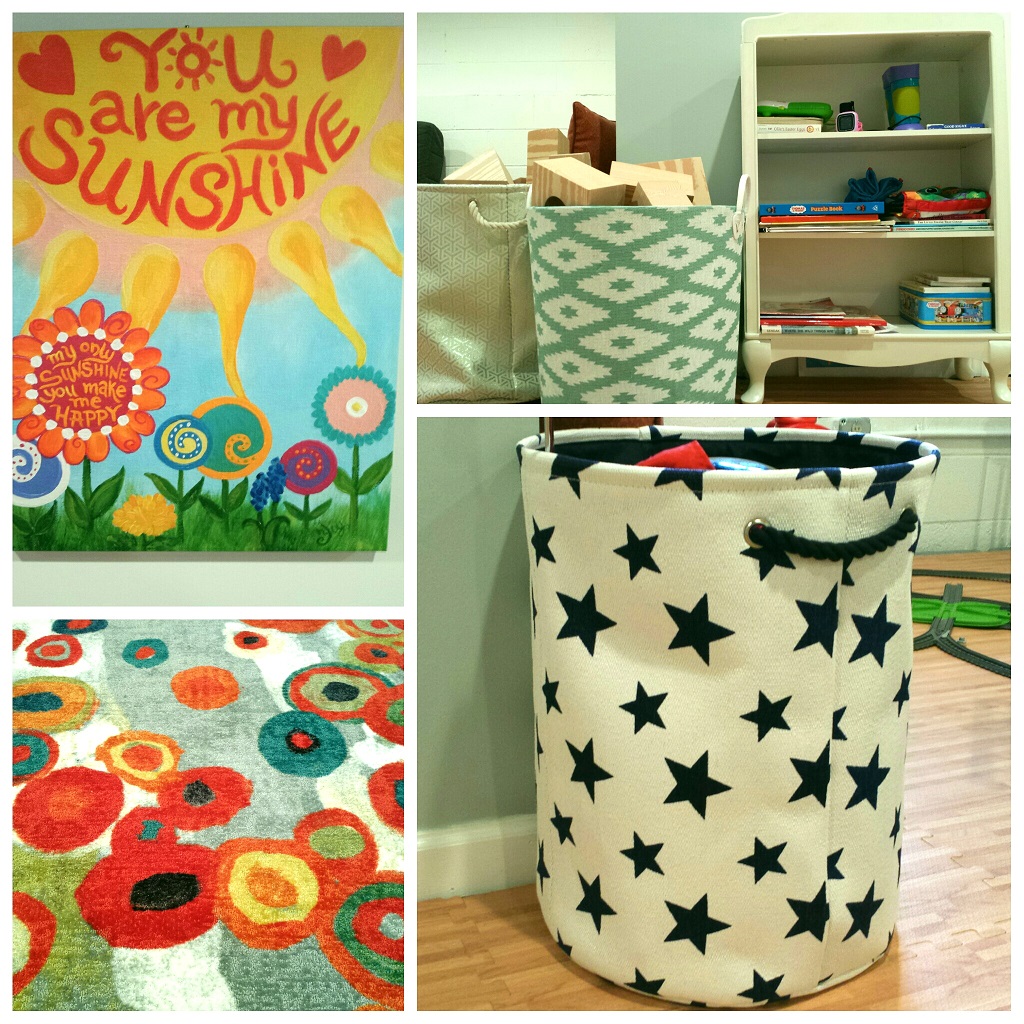 Cozy futon…when mom and dad need something besides the floor to sit on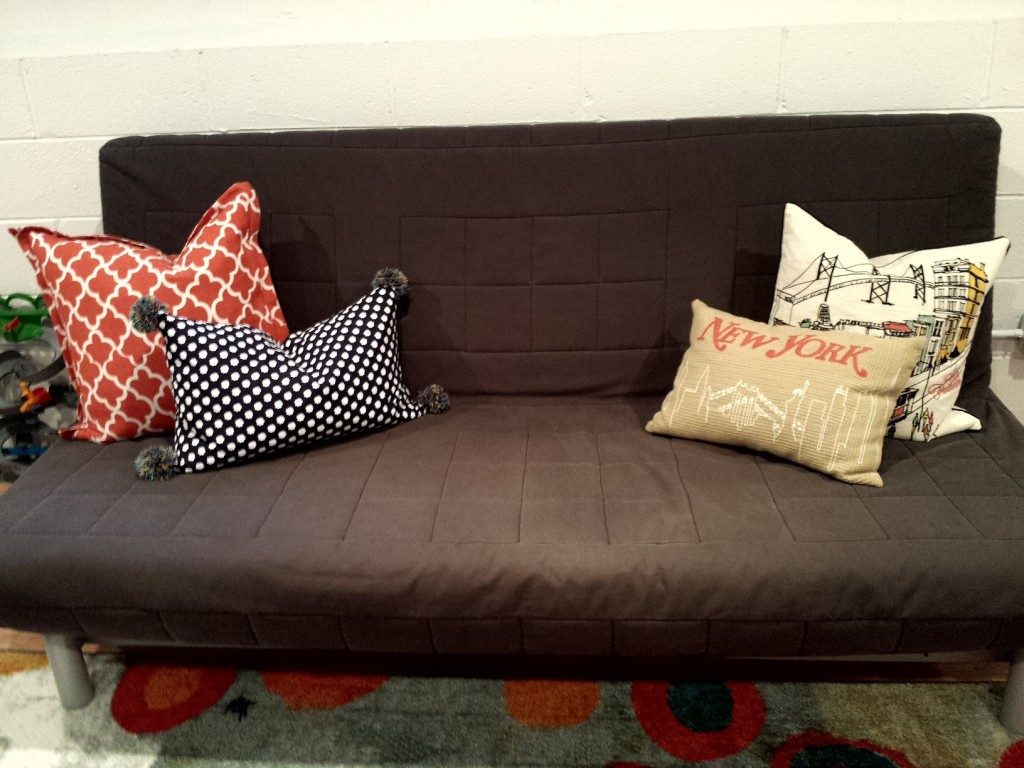 Toys galore, and an art area…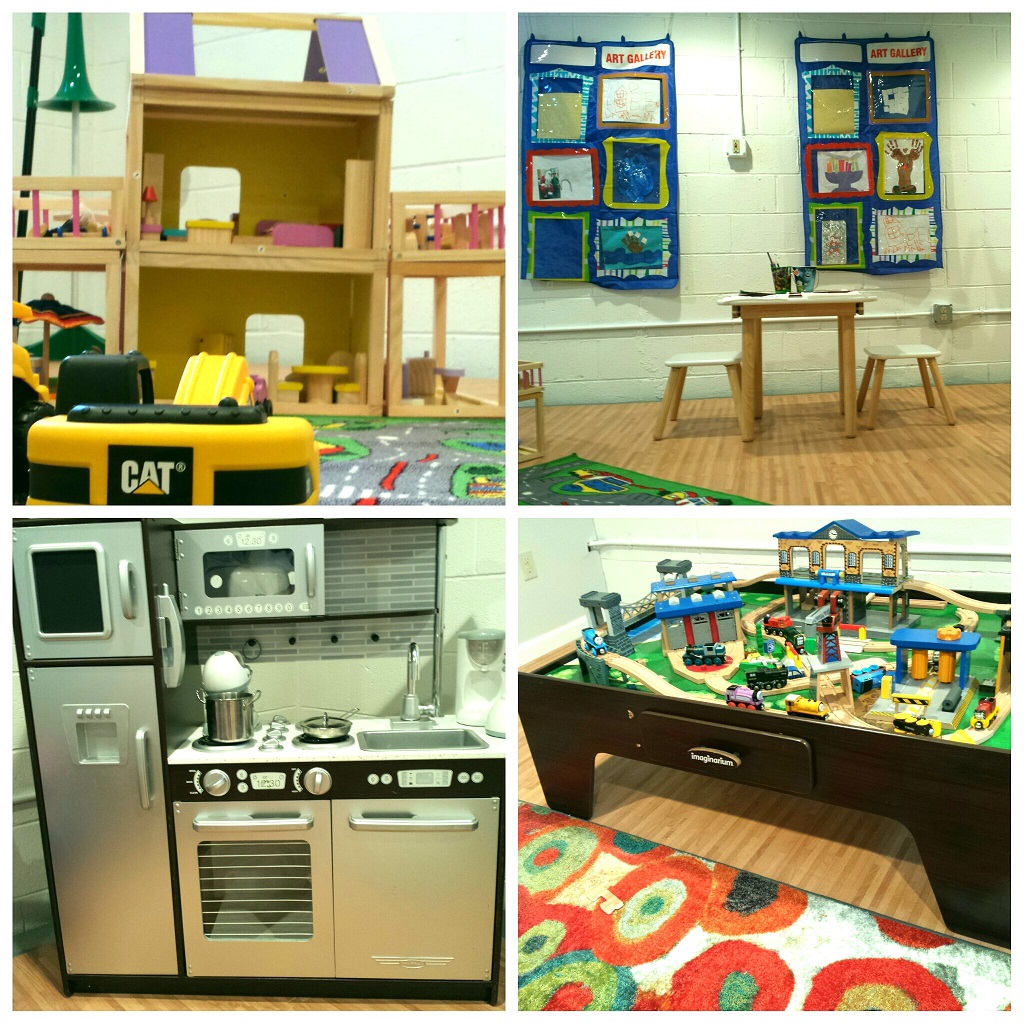 WRAP-UP:
So, was it worth it? OH, YES!!!! We are really enjoying the space! It's not the most formal or fancy space, but the kids have a bright, warm place to play where they can run around like maniacs, and make a giant mess without (much) hassle from Mom.  We have reclaimed our adult living space in the living room (though somehow, toys seem to magically float upstairs on a regular basis).  The dreaded play kitchen and train table, and *multiple* track sets are tucked away in the far corners of the room.
One of my fondest Christmas memories this year? After the kids unwrapped their gifts, we promptly brought them RIGHT DOWN THE STAIRS. Merry Christmas to ME!
We finished off approximately half of the basement, gaining about 400 square feet of space.  The other half will remain unfinished and will continue to be used for storage and laundry.  We may eventually sheet rock the ceiling after we add a master bath on the 2nd floor, but so far we are loving the painted "unfinished" ceiling so may not.  We did not insulate the cinderblock walls, and so far the basement has been holding heat pretty well.
In keeping with our budget, I purchased the furniture, bookcase, rug, and foam mats on sale or secondhand.  It helped that I did a lot of my shopping during Black Friday and Cyber Monday sales, and at the same time many folks were selling things to clear out way for new Christmas toys ?  I still want to do some curtains and another storage rack, as well as adding cushions to the tops of the Kallax storage units to add some additional seating.
LESSONS LEARNED:
Overall, the project went very smoothly.  We did fail electrical inspection the first time as we learned that we needed to install an AFCI breaker (not GFCI) on the control panel to control the outlets and lights installed in the new space.  The other small surprise was that in order to have proper access to all the utilities in the newly constructed utility room, we ended up putting a door on the front wall and on the side wall of the utility room.  We originally planned to have double doors on the front wall only, but due to the measurements of the doors, it would have made the utility room much wider than we wanted.  So we opted for a door on two separate walls.  But both of these were very minor issues, and quickly resolved!
THANKS AND PRAISE:
Many, many thanks to Scaldino Basement Solutions, and Trisha Lynn from Shady Lady Colors.  We couldn't have done it without you!
SOURCES:
Furniture: Kallax storage cubbies, Beddinge futon: IKEA. All purchased secondhand from Facebook sale groups.
Bookcase: Purchased secondhand from Facebook sale group
Storage baskets, pillows, wall prints: Home Goods.
Hanging Art Gallery: Constructive Playthings.
8.5'x11' Area Rug: Wayfair
Hardwood "Forest Floor" print foam mats: Wesellmats.com
Have you recently finished your basement? What were your biggest surprises, and challenges?  Were you happy with the end result? Was it worth it? Add a comment and let us know!